Atmospheric dispersion modelling
- a powerful management tool...
Uses include:
Environmental Impact Assessment
IPPC and LAPPC Applications
Emergency Planning
Odour Prediction
Risk Assessment
Dispersion modelling was developed in the 1950s for predicting background pollutant concentrations from chimneys. Since then, the science of dispersion modelling has rapidly developed and, although many models are still based on the classic algorithms, the laborious number crunching has been replaced with software.
In addition to numerical results, NEMS is able to produce graphics showing 2D and 3D lines of equal predicted concentrations (isopleths) for inclusion in a report.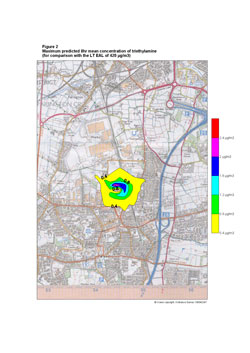 Our experience in the field of dispersion modelling ranges from a single stack source to multiple sources, spills and traffic pollution.
Some of the scenarios where NEMS staff have used dispersion modelling include:
Predicting air quality impacts of major power generation projects
Predicting air quality impacts of proposed shopping centre &amp multi-storey car park
Conducting environmental impact assessments of cooling tower plume visibility
Explosion risk assessment - dispersion of solvent spills and drying oven emissions
Explosion risk Assessment - impact of blast at explosive manufacturing facility
Conducting risk assessments of a road tanker spillage
Formulating the specification of pollution and odour abatement equipment
Locating wastewater treatment vents to minimise odour nuisance
Assessing the potential off-site dust loading of temporary construction site roads
Heath and safety implications of construction work in proximity to pollution sources