Noise Surveys and Assessments
Workplace Noise
The Control of Noise at Work Regulations 2005 impose a legal obligation on employers to prevent damage to the hearing of employees and visitors to their premises. Assessment of exposure to noise must be carried out by a competent person. The assessment should identify all persons likely to be exposed, and provide information to indicate where action is needed and assist in deciding what further action is appropriate.
Techniques incorporated in undertaking a noise survey include the use of personal dosimetry to measure an employee's exposure to noise over a working day, spot reading of sound pressure levels from various machines/locations, and the calculation of expected noise exposure based on duration spent in particular locations or carrying out specific tasks. In addition, octave band frequency analysis may be incorporated in order to assess the suitability of existing hearing protection, or to make recommendations to the client.
Example Personal Dosimetry Time History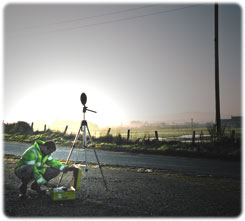 Environmental Noise
Measurement of environmental noise can be required as part of the planning procedure, where the impact of a proposed development on the surrounding environment needs to be assessed, either during the construction or operational phases. Measurement and assessment of environmental noise impacts often requires long periods spent monitoring background noise, including measurements at nighttime.
Environmental noise assessments are typically carried out in accordance with the requirements of BS4142:2014, which describes methods to determine the noise levels outside a building from factories, industrial buildings and from sources of an industrial nature from commercial buildings. It also describes methods for determining background noise levels.
Where noise is being assessed for the affects of a proposed development, calculations of projected noise contributions together with the background noise measurements enable the development of a suitable package of control measures designed to minimise any potential impacts.